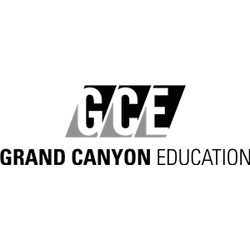 Academic Services Project Analyst
Sorry, this job has expired.
Phoenix, AZ
Grand Canyon Education (GCE) is an educational service company that provides an array of support services in the post-secondary education sector. Formerly part of Grand Canyon University (GCU), GCE still supports and works closely with GCU. GCE designs and develops educational programs for GCU and other traditional campus institutions, as well as online partner institutions at the undergraduate, graduate and doctoral levels.
Grand Canyon Educations Academic Web Services department is seeking a full time Project Analyst. This position is responsible for successful planning, quality assurance, and on time delivery of client solutions. The individual in this role may be the primary liaison with the project team and clients throughout planning, design, production, testing, and maintenance stages of the project lifecycle. This role is responsible for maximizing departmental resources by bringing together project teams and making recommendations to management related to project resource allocation, schedules, milestones in development, and timeframes for completion.
While this position is a Phoenix, AZ based role, we are in an indefinitely remote status. There may be department meetings or training's that require in-person attendance (proper health and safety measures will be followed), in which advance notice will be provided.
Responsibilities:
Participate in client information gathering sessions and document requirements for project team
Lead client meetings during the project life cycle to capture information about project goal, scope, timeline, and deliverables
Demonstrate ability to communicate to stakeholders about technical requirements in an understandable manner
Demonstrate solid understanding of product lifecycle
Ability to communicate with a variety of people with different organizational roles to identify operational and application requirements
Actively participate in some or all stages of the product lifecycle
Work independently or as a member of project teams to determine curricular and media needs
Solve problems and make decisions with attention to detail
Ensure tasks and projects are on schedule
Meet both departmental standards and customer expectations
Demonstrate interpersonal communication skills including verbal, written, and active listening
Stay abreast of current concepts, techniques, and technologies
Actively pursue and engage in professional development opportunities
Qualifications:
Bachelors degree in business, computer science, systems design, or any other related information technology field.
An equivalent combination of relevant work experience and education may be substituted upon approval.
Minimum of one year professional experience defining business requirements.
Work independently or as a member of a project team on multiple projects simultaneously
Excellent written and verbal interpersonal communication and relationship building skills among diverse groups of stakeholders
Excellent planning, organizational, and process skills
Proficiency with the Microsoft Office suite including Word, Excel, Visio, OneNote, and Outlook
Provide a positive example to students by supporting the Universitys Doctrinal Statement, Ethical Position Statement and Mission of Grand Canyon University.
At Grand Canyon Education, it is our privilege to serve students and those who support academic advancement. We lead educational transformation by developing superior ways to help schools grow and prosper. We provide transparent programs, intuitive online learning technologies and well-established academic models that promote student success and institutional growth.
Employment is contingent upon the satisfactory outcome (as determined by the university) of pre-employment screening activities, including a background check.
For assistance with your job application please use our External Candidate Job Application Guide.
All staff candidates will be asked to review GCEs staff expectations as part of the application process.
Our partner in education, Grand Canyon University, is Arizonas premier private Christian university. GCU serves traditional and online students by offering quality academic degree programs, experienced leadership and transformative learning experiences both on our growing campus and digitally.
Posted 30+ Days Ago
Full time
R000031161
36922471